Welcome to HARDO Coating Solutions
With over 50 years of experience in the field of glue application systems HARDO Coating Solutions offers competent expert knowledge for your bonding technology. We use our expert knowledge to provide you with perfect production solutions from development to design and construction. The HARDO application system range comprises of simple individual machines, the integration of application machines in automatic production lines up to fully automatic machine lines with low maintenance requirements. Due to the fact that we are continuously enhancing our standards, we can always guarantee the supply of the latest-state-to-the-art solutions in the field of bonding technology for your requirements. Our bonding technology is tailor-made to meet your demands!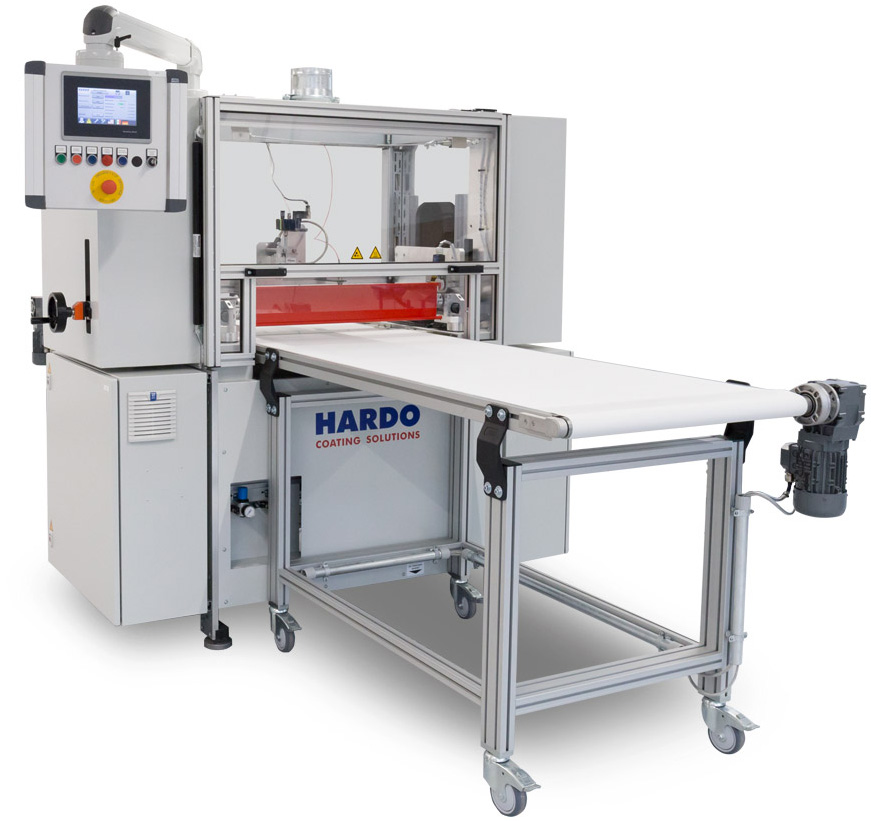 The "HARDO classic" for coating individual blanks by means of the latest state-of-the-art dosing roller application technique and optimized conveyor belts.
Further optimizations have been made to be able to provide you with the latest state-of-the-art dosing roller application technology.
Your advantage with the HARDO dosing roller application machines:
Perfect application even for coating light-weight and flexible material by means of small roller diameters
All drives and settings via servo motors for absolute accuracy
Hard-chromium plated application and dosing roller – no expensive service costs caused by repeated reworking and coating of the rollers and melt tank
Easy and quick cleaning – no complicated cleaning of the application system, continuously supplying the system with dry air is not required
With recipe management for all parameters as an option
Even our conveyor belts have been redesigned for you to avoid a complex docking station fitted to the application machine and allow for very easy positioning and fastening of the conveyor belts.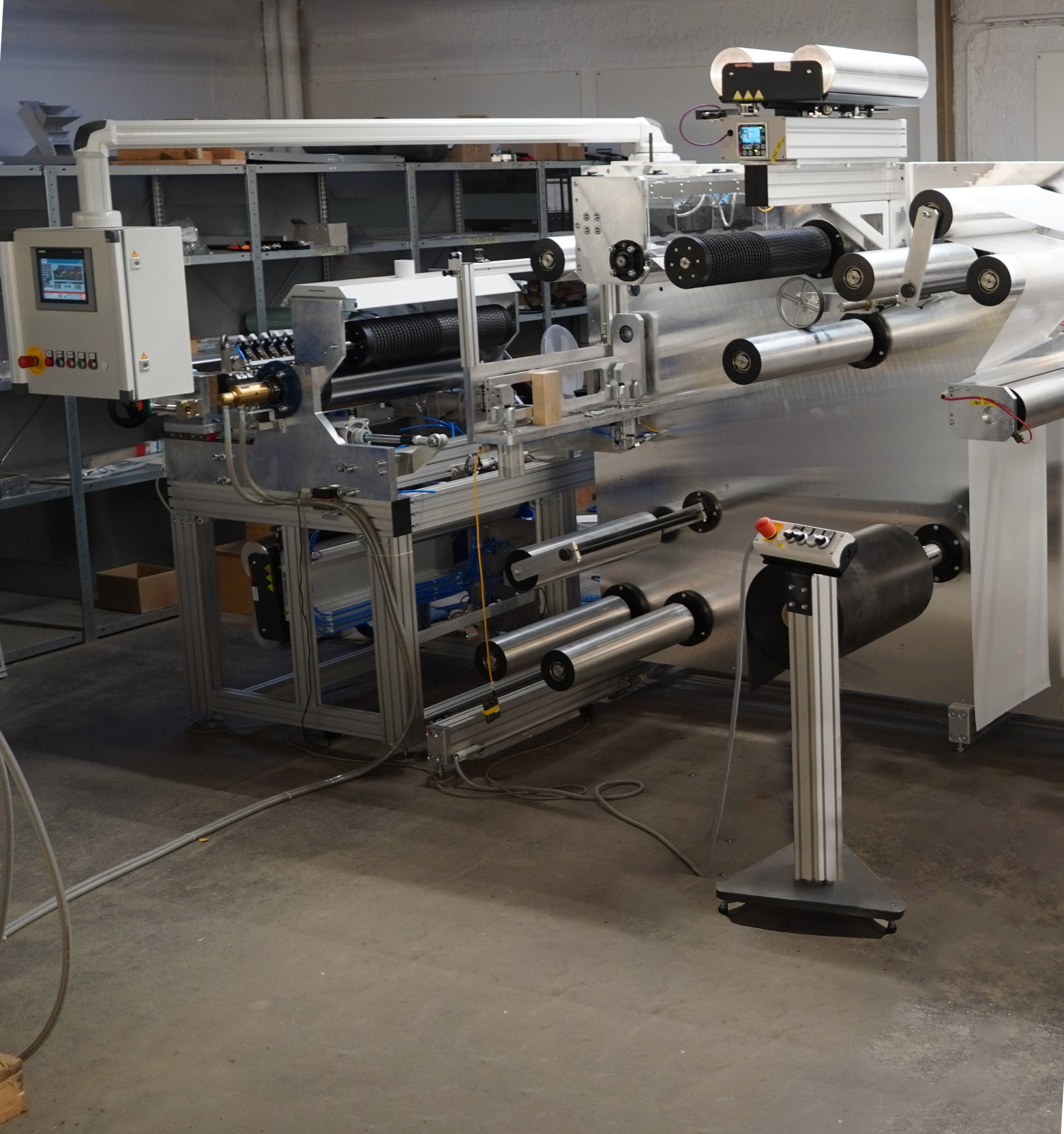 The optimization of roll coating stands was a focus in our development department in the past year.
Perfect roll coating stands according to your perceptions
The roll coating stands by HARDO Coating Solutions are top-ranking not only in the automotive industry. The stands supplied last are used in the packaging industry and building technology.
Our coating stands are usually equipped with slotted or roll bar nozzles for glue application. However, any other application method can also be used. For example, it is possible to integrate turret winders or cutting units. Our engineers attach the greatest importance to the ergonomics of the coating stand, which distinguishes us decisively from our market competitors.
A top priority of HARDO Coating Solutions:
Coating and production lines
This is our forte. From project-planning to realization of your complete coating or production line. No matter of how many different subsections your line is composed, we take over the overall management and are your sole and responsible contact. A complete production line of approx. 16 metres is currently built in our remodelled production hall.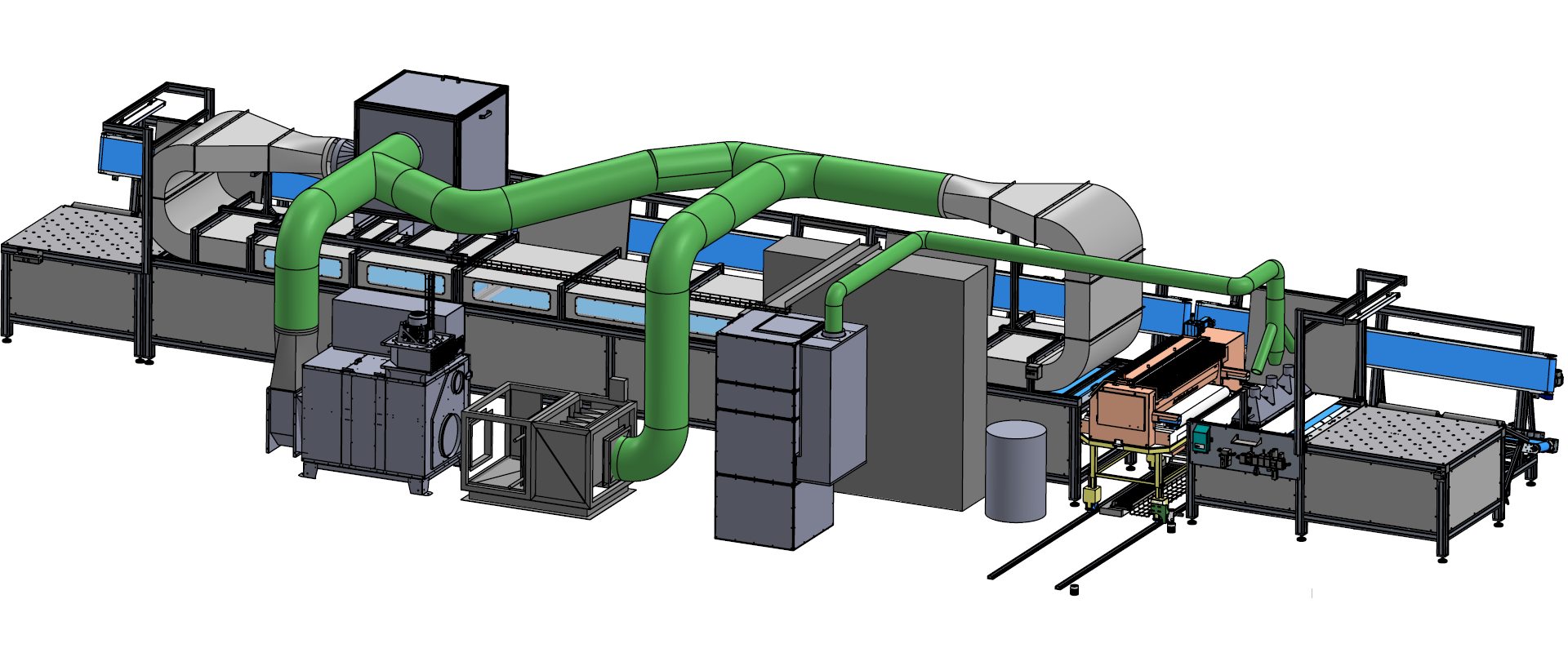 Our newly developed coating and drying line represents a milestone in the coating of blanks with water based adhesive. The blanks are coated and dried in about one minute so that they can be stacked.
Insights
News on our part:
New premises for HARDO Coating Solutions
A lot has happened on our premises: We now have a completely redesigned technical center, in which we would be happy to work together with you, if the pandemic restrictions currently allow, to develop your optimal glue application process, as well as the perfect layout for your coating line. In addition, we have modernized an approximately 400 m² production and assembly hall to ensure sufficient space for manufacturing our production lines.
Our new conference room also offers sufficient space to work together on design solutions and adhere to the current COVID-19 protective measures. Furthermore, additional offices have been completed and three new experienced colleagues have been hired. The fact is: HARDO Coating Solutions is in the best position to also offer you an individual all-inclusive service in the future.
We are looking forward to a successful cooperation
The entire team of HARDO Coating Solutions is available to you as usual without any restrictions.
You are planning a new project or wish to optimize one of your coating lines? Just contact us!